I have more than a thousand samples of handwriting that I specifically culled from many thousands of manuscripts due to their similarity to the column text, the main text, and the marginalia.
I also have enough background in this area to have some expertise at this.
I have hundreds more "reference" samples, some of which are hybrid or transitional between the 1) Italic and Humanist/Secretary hands and 2) the proto-Gothic and Gothic cursive hands, along with more pure examples of each and some of their related styles (e.g., Anglicana, which is a cousin to Gothic cursive).
My observations so far (I've been working on this for many years):
I'm reasonably confident that the You are not allowed to view links. Register or Login to view. column text is Italic/Humanist/Secretary hand (the differences are small and I'll explain them in more detail later along with more correct terms). I have many samples to support this. I'm close to pinpointing a date and location (it took several hundred samples before even I began to

consider

dates and locations because I don't think it's good science to rush this and guess from a small set of samples).


T

he marginalia is an early Gothic cursive blended with a small amount of Gothic book hand (this is not

unusual since some people learned both hands).

I have many hundreds of carefully selected

samples,

a

half a dozen of which

score in the 80s (out of 126)

on a mathematical scale keyed to

the reference marginalia. I also know which letter forms are specific to this hand (I can document this) so that the hand can be recognized.



I'm reasonably

confident that the main-text writers were familiar with Gothic cursive scribal conventions and abbreviations and I have some reference hands that are mixed Humanist/Gothic (that sounds like a contradiction but they do exist, they include both Gothic forms and Italic spacing conventions) that come somewhat close, and I have also identified which key shapes are unique to the main script, and which ones are common to many (I have done the same with the marginalia).

It's very important to keep in mind that ciphers are often written with different spacing from a person's regular hand. There are many historical examples that show cipher shapes are often closer to a person's printing than to their handwriting.

IF

the VMS is ciphered text, the spacing will not necessary reflect the person's handwriting, but some of the letterforms may (e.g., a and o).

The reason I haven't written this up is because it takes time to do it right. With the zodiac symbols, for example, I didn't want to quote statistics or make generalizations until I had at least 500 complete cycles, and it took many years to find and key them. If you use a small sample, it's supposition and guesswork—a larger sample, and a little bit of actual math and scientific inquiry comes into play.
My feelings about the text are the same. I didn't want to make generalizations and write it up until I had culled at least 1,000 samples from extant manuscripts that were CLOSE to the hands in the VMS, with information about their dates, origins, etc.
I wanted to devote another year to studying this before making any of the above generalizations, but once topics are brought up on the forum, they tend to take on a life of their own, with everyone jumping in the pool, and often going over the same ground and collecting and posting the same items I already have in my files. Once the ball is rolling, I have no choice but to climb on the wagon and present what is incomplete (compared to what I had planned). If I don't, there's a huge replication of effort (plus I get accused of copying other people's work).
This is not a criticism, it's just the way it is when a community pools its resources relative to someone working independently. I had hoped to write this up as a paper—not because I had thoughts about getting it published, but because some topics are better treated this way. It's far too extensive to post as blogs (it would take 20 blogs just to lay a foundation for understanding it).
-----------------------
The column-text hands I posted You are not allowed to view links. Register or Login to view. (from You are not allowed to view links. Register or Login to view., later in You are not allowed to view links. Register or Login to view. and You are not allowed to view links. Register or Login to view.) are just the tip of the iceberg. Not only do I have much more in my files than I can fit on a blog-chart but I have found some important additional data since the last time I posted it.
I have also done an in-depth study of the foliation and quire hands and I have data that shows the foliation may

not

be John Dee's hand (it is very similar to Dee's hand but I have located a couple of other hands that might be considered more similar).
The research I've done on the marginalia far exceeds the work on the column text. Here is a quick grab (very quick) of some of the ca 1,000 hands I've collected (these are ONLY hands that bear a significant resemblance to the marginalia, I have many more hundreds that are reference hands or which match other parts of the text):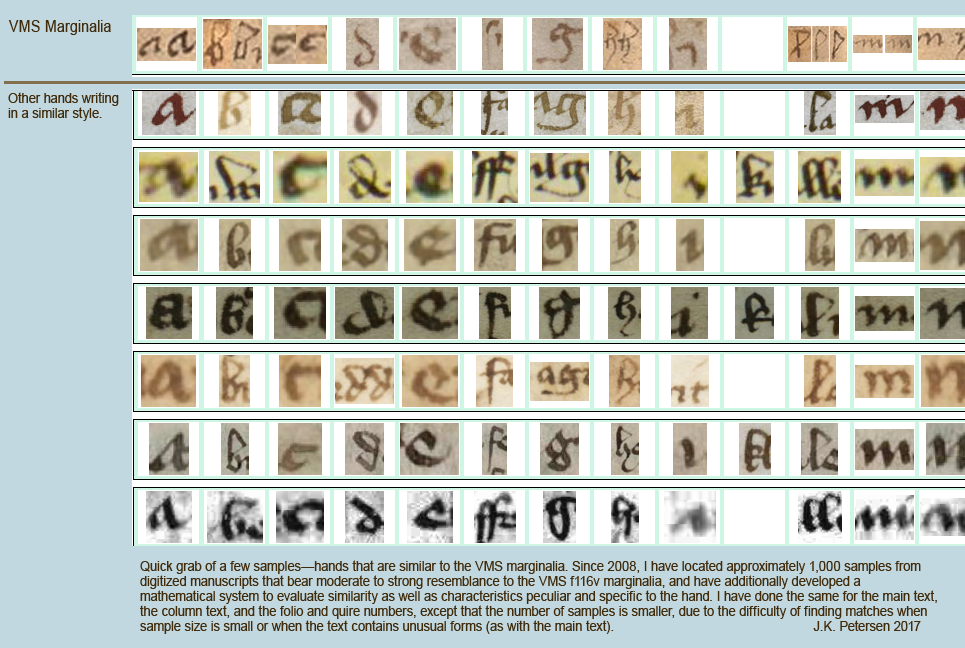 One of the things one notices when looking at the dates of the manuscripts represented by these hands is that they are within the same general ballpark as the radio-carbon dating for the VMS, which indicates that the last-page marginalia may be contemporary with the creation of the manuscript, or added within a few decades of its creation.
Note: I did not look for hands that were specific to the 15th century. I consistently searched hands from about 900 CE to about 1720 CE, but only those manuscripts (or marginal commentaries) that were written around the 15th century (give or take about 40 years) tend to exhibit this style.