I didn't want to commit to this yet. I've thought about it frequently, but I need to do much more research, but since you forced my hand.

  ...
So... a tentative guess, very preliminary... origin of scribal/illustration skills, 116v text, zodiac-figures labels, Prague, Kircher.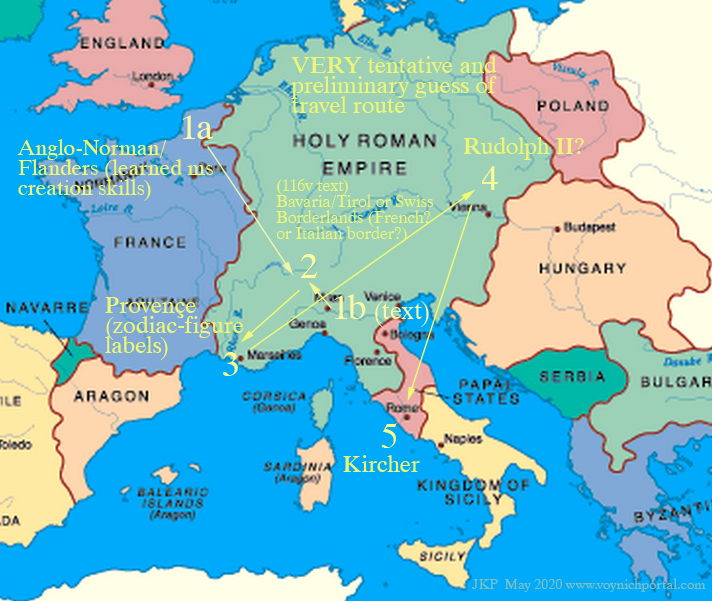 This is very difficult because I still feel like there might be some Italian influence in the actual creation of the VMS, but since there may be several people involved, you can't really say where it originates because the people involved might be from different places.
Let's say it was done by a group of university students (as one possibility)... I think some of the illustration skills were learned in the Flanders/Anglo-Norman area, but I think the influences for the plants may have been Italian and the design of the text? It could be from anywhere, but maybe southern Bavaria or northern Italy.
So, a very tentative guess...
Illustration influence - Flanders/Anglo-Norman areas or northern France, at some point was exposed to exemplars from somewhere around Bavaria?




the illustrator may have traveled to Italy or southern Bavaria to go to school, maybe met schoolmates and was exposed to Italian exemplars for plants, and collaborated on this project (or maybe the whole family moved and resettled in the Tirol/Bavaria/northern Lombardy area)




text maybe designed/invented (by a different person??) in the Lombardy/south Bavaria/Bohemia area




116v text added in Switzerland or one of the Swiss border areas where there are many dialects and mixed languages (north, east, west, south? not sure). I don't think the person's native language was German, but probably a Romance language (although Greek also frequently comes to mind). This person was MAYBE one of the collaborators (maybe, not sure yet, looking for confirmation)




zodiac-figure labels added approximately Provençe or the part of France near the Swiss border




column text on 1r maybe added in the early 16th century, maybe Italy or eastern Bavaria??? but it could have been added anywhere... many people wrote this way in the 16th century




probably ended up in Rudolph's II court




went through intermediary hands to Kircher in Rome



If it was university students (as one possibility), I would go so far as to say they may have been in the Paris area (undergraduate? zodiac-figures styles?) or the Trentino/Padua region (graduate school?) and maybe they saw the plant exemplars in a professor's library or a university library.
I'm almost certain there are multiple influences and some cross-cultural influences, but it was quite common for university students to do what they do now, get their undergraduate degree in one place and their graduate degree in another. That MIGHT explain the odd mix of Anglo-Norman/Flemish and Italian influences. If so, I think the Anglo-Norman/Flemish came first.
Most of this is simply opinion, but I do have more than a decade's collection of palaeographic evidence to support SOME of the above ideas. I just don't have enough yet to be completely sure.
I have another scenario that is moderately different from this, someone from eastern Europe migrating to northeast France, but I have much less evidence to support it and I'm not confident enough to map it yet. Parts of it have been mentioned in blogs.