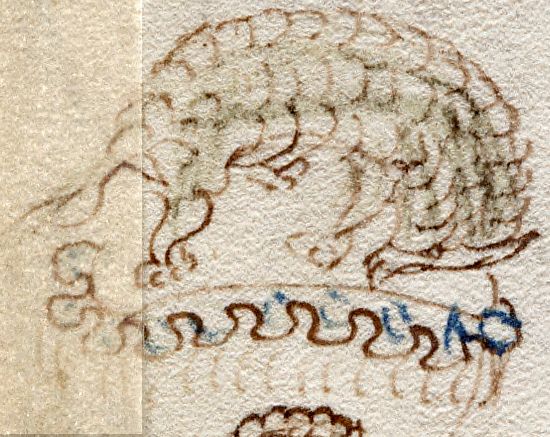 I was wondering if anyone can see, and perhaps explain:
1. The two little eye shapes at the top of the line that goes up between the neck and the foreleg. 
2. The darkness of the line near the hind foot (mid inner curve) and the little y at the top of it and the adjacent curves.
3. The s shape to the left of the dark curve and the single long curve that follows through the scales to the eye shapes.
4. The multi curve above the one on the back end of the foreleg that includes a curve in the other direction.
5. That this curve in 4 ends up with a space at the top where the curve stops, leaving a hole or void at the very top.
6. The little line and circle/dot below and right of the backward curve in 5, and the smaller circle to the right of that.
7. The dots below and to the left of the void in the top of the back, and the second void two curves before the tail.
8. The s line of the tail and the dot it points to with another dot above, and the tail bifurcation with a longer far side.
9. The darkness of the hindleg curves meeting almost at a point, then smaller curves spreading out from there.
10. The darkness and skinniness of the face and how it seems to be drawn on top of a couple of the curved scales.
11. The blue painted inverted v, second last occurrence among the blue c's within the the nebuly lines
12. That the nebuly lines turn the left corner and continue, but end at the right corner, with rain bunching up at that end.