Methodology of a Number System Cipher to the VMS
First off, I believe that the Voynich Manuscript is a cipher, but not in natural language form (meaning the glyph's are not arranged as so).  I truly believe there is text, a book or books that were used to produce the manuscript, but in the art of numbers.  Yes if you interchange the glyph's you can get the same result and therefore make the script seem as a major null as a natural language.  So it would seem to violate frequency analysis to equate to an alphabet.  The cipher in number form adds a natural defense at trying to decode the main body of the text; by the premise of a number system in which I believe John Dee would be so inclined to do.  John Dee used a number system in which he associated divination to letters as numbers. 
Yes I even attempted to decode several paragraphs from 16th century Bibles.  Although not in welsh which violates the main thrust of the language that I propose it is in Welsh! And it was not verse by verse so that was a failure.
[font=arial, sans-serif]However, if you attack the Voynich Manuscript from a theme and imagery perspective along with a sound cipher many words have come forth which represent its meaning.  The cipher which I came up with is a number system which letters equal numbers.  I approached this decoding method in the Voynich Manuscript from the most intricate approach attributed to the Zodiac in folio 67r2. Furthermore this became the base of operations for my cipher in which I added upon.  This should answer the (Strange) question.  However Mr. Strange you have to line up the Zodiac on top of creating cipher for that to work. If you can present one using a number system in a different language; I would like to see it and I will allow 1 Zodiac sign to be a different language to be fair. Every attempt in history here has been met with failure; but I noticed a glyph equivalents to the (scorpion) and, (craf, i.e. garlic) equaled a 1 in along with the code I embraced for this image of craf in f99r; as the Voynich Glyph's which I associated to have number equivalents added up to a 1.  

[/font]
oHae89
o=6, H=8, a=1, e=5, 8=8, 9=9 } All add up and equal a 1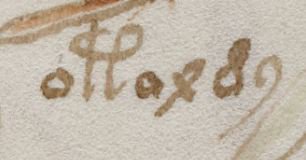 [font=helvetica, arial, sans-serif]This cipher I have found which I'm certain is used within the Voynich Manuscript has confounded the language to numbers. It does not follow order of a natural language which has kept it secrets for so long.  The words which I have found are in Welsh would be 85 out of a hundred.  And they correlate to the imagery and themes.  The reason I have 15 words outside of welsh is attributed to known astronomy words in which John Dee would have known.  John Dee also annotated a Welsh to English Dictionary (1)!  I discount the, "Boke of Jona", because it was just an attempt in which it produced failure from not following verse by verse and its outside of the Welsh Language.  So in a sense I'm just using Welsh with astronomical and astrological slight imbalances to the overall language.  That is fair!  I'm certainly not using every European Language.


[/font]
1)    The facts are the images and themes tell a story on their own.
2)    The Voynich word has to add up and equal the Welsh equivalent word
3)    Translate that in which the cipher meets the images head on.
4)    And the theme words correlate to the whole picture; I would say no this is not just a coincidence from 1-9.
[font=helvetica, arial, sans-serif] 
[/font]
It's a number system; whether or not Pythagoras came up with it, I used it for my cipher.

You are not allowed to view links.
Register
or
Login
to view.  
You are not allowed to view links.
Register
or
Login
to view.    
(1)
William Salesbury his Dictionarie in Englishe & Welshe, or Brytishe. 4o London 1547 :
Dee's copy is now TCD, EE.e.32 (formerly C.10.17). At the head of the titlepage is 'John Dee'. In the first half of the book, up to sig. K, he extensively annotated and corrected it; in some instances where Salesbury had put words of English origin in the 'Camraec' column, Dee supplied a Welsh word and occasionally, where Salesbury left a blank, he supplied an English equivalent. He also corrected equivalents in both languages. Later owned by abp. Ussher. See R. G. Gruffydd and R. J. Roberts, 'John Dee's additions to William Salesbury's Dictionary', Transactions of the Honourable Society of Cymmrodorion, n.s. 7 (2001), 19–43. 
You are not allowed to view links.
Register
or
Login
to view.  
You are not allowed to view links. Register or Login to view.