When I joined the forum I mentioned that while I didn't have a theory or a solution, I did have a few pictures that I wanted to share because I thought I could see elements of design motifs from the VMS in there as well. I have searched to check that you haven't discussed these exact images before, but searches aren't always perfect so I'm sorry if some of you have seen and discussed these images before.
I want to show you a few images of illustrations and statues of Saint Barbara because I think her martyrology story has some interesting overlaps with the VMS themes. Saint Barbara is one of the early Christian martyrs and as with quite a few of the early Christian martyrs there's a fairly large gap (several centuries) between when she lived and when her name starts appearing in sources. By the later middle ages, she was a popular and established saint and her life follows some of the major tropes for early female martyrs namely, a Christian woman promised in marriage to a pagan man, she resists the marriage and is publicly humiliated/shamed/tortured, before being executed rather than marrying a pagan.
This summary of Barbara's
Life
is from wikipedia but the details are broadly correct
Quote:According to the hagiographies, Barbara, the daughter of a rich pagan named Dioscorus, was carefully guarded by her father who kept her locked up in a tower in order to preserve her from the outside world. Having secretly become a Christian, she rejected an offer of marriage that she received through her father.
Before going on a journey, her father commanded that a private bath-house be erected for her use near her dwelling, and during his absence, Barbara had three windows put in it, as a symbol of the Holy Trinity, instead of the two originally intended. When her father returned, she acknowledged herself to be a Christian; upon this he drew his sword to kill her, but her prayers created an opening in the tower wall and she was miraculously transported to a mountain gorge, where two shepherds watched their flocks. Dioscorus, in pursuit of his daughter, was rebuffed by the first shepherd, but the second betrayed her. For doing this, he was turned to stone and his flock was changed to locusts.
Dragged before the prefect of the province, Martinianus, who had her cruelly tortured, Barbara held true to her Christian faith. During the night, the dark prison was bathed in light and new miracles occurred. Every morning, her wounds were healed. Torches that were to be used to burn her went out as soon as they came near her. Finally, she was condemned to death by beheading. Her father himself carried out the death-sentence. However, as punishment, he was struck by lightning on the way home and his body was consumed by flame.
Barbara is sometimes associated with bath-houses because it was the modification of the bath house that led to her demonstration of faith. She is also associated with canons and artillery because some of her torturers were struck by lightning when they tried to harm her. The major attributes that you see her with in medieval art are a tower/bath-house, a canon, and a chalice. If she is depicted with a tower then sometimes it is much larger, behind her, and in the distance, but in some images it is a small tower that she holds or is about knee-high beside her. I think the canon and the chalice shapes have a certain amount of similarity with the "pharmacological" section (ff. 88r–89v2, 99r–102v), and the bathing connection is self-explanatory, and so I just wanted to know if any of you can see any similarity, or if this is a case of me seeing something because I think it's there.
Barbara in a Polish altarpiece of 1447
Barbara in a Spanish altarpiece c. 1410–1425 You are not allowed to view links.
Register
or
Login
to view.
Barbara in an English stained glass window c. 1450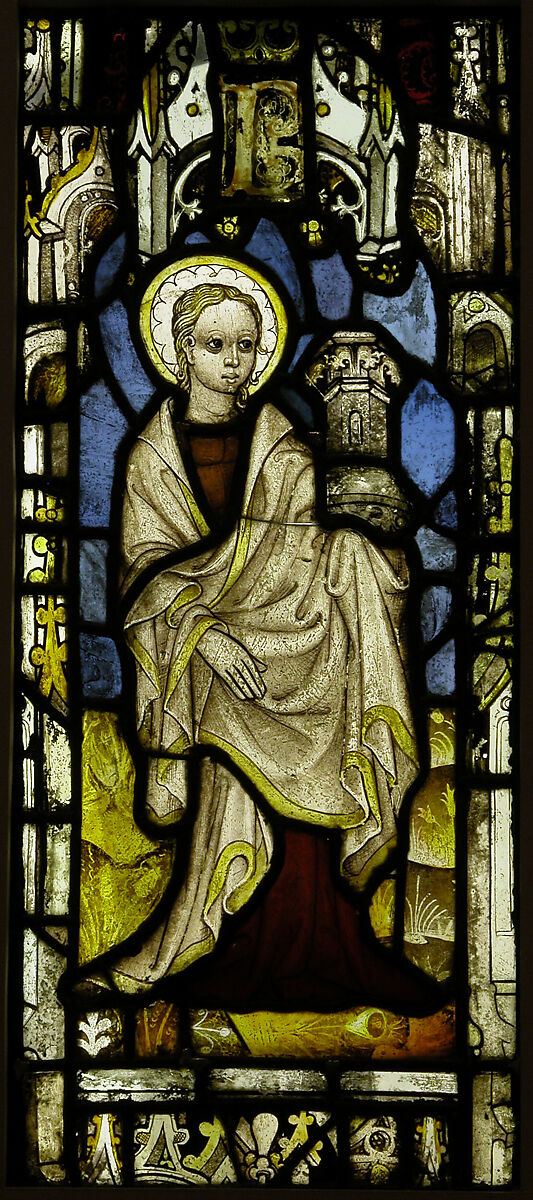 The Hague, KB, MS 76 F 7, 31v
The Hague, KB, MS 76 F 30, 17v
The Hague, KB, MS 133 B 13, 98r
Austria, Kunst Historiches Museum, Wien (Bohemia, c. 1470?)
tl;dr does anyone think it might be worth pursuing a connection between Saint Barbara and her association with bath houses, artillery, and chalices, and the iconography of the VMS and particularly the chalice and canon/tower? shaped objects (with water for bathing in on top?) in the "pharma" section?